Above is the gaint's mask which is found in stone tower after defeating the eyegore gaurding the entrance to twinmold's lair.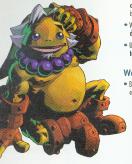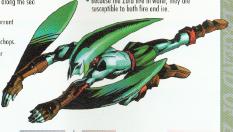 Above is Link riding on his horse Epona.You get Epona after you have the ability to use powder kegs.On the first day go to milk road near the entrance to the swamp but go fast because a buzzard gaurds the entrance.In milk road blow up the boulder and go in the ranch.Talk to Romani and she will explain the rest,but make sure you talk to her on the first day before 8:00P.M.
To get a 200rupee drink that will give you inf. magic untill you go back in time do this.Save up 200rupees then go to the milk bar after 10:00pm while wearing Romani's Mask.Then talk to the man behind the counter ask for a drink and you can buy the drink which is called cheateu romani.